A successful sales process begins where your customers see their interests served and can rely on the quality of your store's advice and service. This applies to both stationary retail and e-commerce. In 2021 in particular, many companies are increasingly orienting themselves towards digitization and looking for the right approach to digital sales leadership. The modern Digital Experience Journey should thereby be supported by Predictive Analytics and Augmented reality be optimized.
How your customer perceives the Digital Experience Journey
As a sales-focused company that wants to leverage digital offerings, you must on the Leave automated sales process can. In stationary retail or telephone sales, a personal contact is always available, but online the customer interacts almost exclusively with predefined content. A Live chat is a good addition to answer open questions immediately, but also a costly extension of the service. Chatbots can use the Customer Journey enrich them, but do not proactively intervene in them.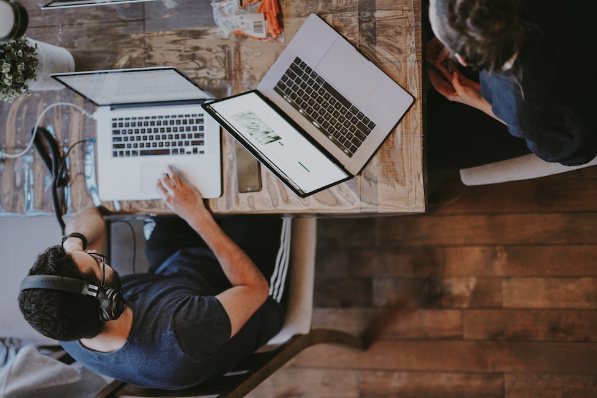 The digital experience journey refers to the entire process from finding your store or app to collecting feedback after a successful sale.
All elements in between should be optimized so that the customer can use the Best service receives and through Recommendations about predictive analytics decides on exactly the right offers for his or her interests.
Customer Experience Improve through mobile accessibility and gamification
The most important starting point for a good sales experience is always the AccessibilityThis means the possibility to reach your store and your offers in an ideal way. As the internet is used more and more mobile and numerous end devices require different representations, a responsive website or store or a mobile app is indispensable. This way, users - no matter on which end device - can consume their content without display problems. An app offers the advantage of integrating additional functions such as augmented reality, i.e. an extended, digital reality level.
Augmented reality works via Gamification and the use of sensor technology from mobile devices. Furniture manufacturers, for example, are increasingly offering their customers apps in which they can view the piece of furniture to scale in their own room with just a few clicks. In this way, augmented reality can be used to determine whether the couch or cabinet is too big, too small, color-matched and finished in detail as desired. This use case is, of course, just one example of augmented representations. Interactive fitting of clothes, detailed views of electronics and 360° tours of locations invite customers to try out the app and view various offers.
Active sales management through predictive analytics
Also Recommendations are a tool that customers have become accustomed to over the years. They trust the algorithm that suggests suitable accessories for their product selection or offers them special deals. The technology behind this is called Predictive Analytics. The Marketing Automation analyzes typical customer and purchasing behavior and thus recognizes what might interest the customer. The more individual and appropriate the recommendation, the higher the additional sales.
Possible uses for automatic suggestions are:
Accessories for products that the customer has placed in the shopping cart
Special perks for e.g. the second part of a book or movie series that the customer wants to purchase if they buy together
Branded products from the same manufacturer from which the customer already owns products
Automated comparisons of different products in the merchandise group that the customer is currently viewing
Prices automatically adjusted to the customer's usual expenses
Individually designed products based on the previously acquired designs
The implementation of these actions requires a one-time setup in a Marketing Automation Software. Then this reliably collects data about the customer and uses this basis to perform the configured automations and recommendations.
Service and customer contact as part of the experience
The course and outcome of the digital experience journey are always a marker for the customer, how serious and customer-oriented your company is perceived. If basics like fast support are not served, even nice-to-haves like predictive analytics and augmented reality alone cannot secure sales. A Good digital infrastructureThe functionality and availability of landing pages, store and website are essential. If, for example, a step in the checkout process does not work, the customer cannot buy. Very few interested parties then give the store a second chance. So you also need to be convincing when it comes to the basics of digital marketing. This is how the original customer contact to an important pillar for the Digital Experience Journey.