Pay-per-click (PPC) translates as "pay per click". It is an advertising model for the Internet in which a company does not have to pay for the display of the advertisement, but for the fact that users click on it.

PPC is mostly used on search engines like Google or social networks like Facebook applied, which sell their advertising space to companies. These advertising spaces can be banners or text ads, for example. If users decide to follow the ad, the advertiser incurs costs - but not before.
The advantages and disadvantages of the PPC model
What are the advantages of pay-per-click?
The most important advantage of this advertising model is, of course, that you only have to pay money if your ad is successful. You do not pay for the Insertion of the advertisementbut for the fact that this has addressed someone.

For you as a company, this means that the Scattering losses significantly reduced can be used. Spreading loss occurs when an ad is played out to users who do not perceive it. Furthermore, you can set a budget in advance that you would like to use for your advertising campaign.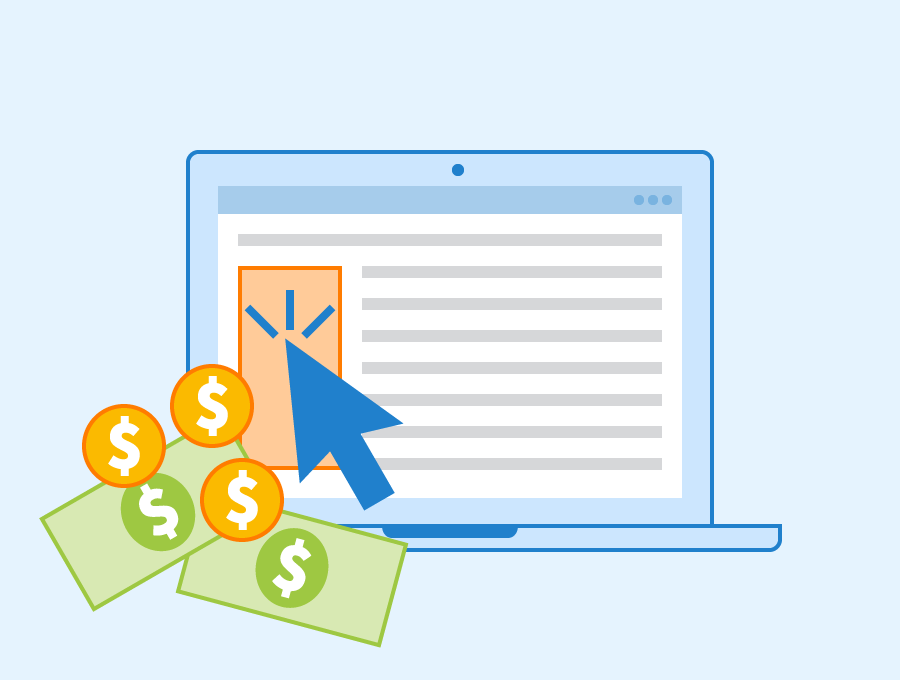 As a result, advertisements can be placed on well-known search engines even with small amounts of money. Thus PPC is particularly interesting for small companieswho only have a small budget and still want to expand their reach.
In addition, the pay-per-click model is perfect for short-term activities such as sales or current press releases.
The advertising can be activated within a few minutes and is then immediately visible on the Internet.
Just as quickly, of course, it is deactivated as soon as the offer is no longer current.
The disadvantages: Beware of click fraud
However, like any good concept, pay-per-click has its drawbacks. Most providers use automated systems to prevent click fraud. However, you are still not completely protected from it. That's why it's quite possible that competitors or web developers can be tricked by abusive clicks cause financial damage can.
A sensible alternative at this point is the pay-per-click-out model. In this case, the user is required to perform additional actions in order to receive payment.
PPC functionality using the example of Google Ads
Especially search engines like Google Ads or Yahoo Search Marketing rely on payment per click. But social networks such as Facebook and Twitter also place ads in the form of banners or text links. Here we explain how pay-per-click works using Google, probably the best-known provider, as an example.
How does the pay-per-click model work?
Search engines or other websites provide advertising space. These are referred to as sponsored ads or links. Companies that want to advertise can book such an ad. Of course, however, there is only a limited number of advertising spaces on each page.
Therefore, the principle of the highest bidder often applies with pay-per-click. So whoever pays the most for a click also gets a better placement for their ad.
If a user enters something in the search engine, he or she is presented with both organic as well as inorganic search results displayed. Organic search results are unpaid, while inorganic results include your ad. If the user considers the ad relevant and clicks on it, you as the advertiser pay a commission to the provider - in this case to Google.
How do I use Google Ads?
With every provider where you want to place an ad, you must first create an account. With Google Ads, this works very simply via your Google account. If your company does not yet have its own Google account, we advise you to create one. The personal account is not suitable for this.
Once you are logged in with your company's account, you can set up a pay-per-click campaign. For this, you first define keywords. If a user searches for these keywords, Google will display your ad in the search results. You also set a budget that you are willing to spend on your campaign. This is important to avoid a financial mishap.
Similar models to pay-per-click
Pay-per-click-out
The very similar name means there is a risk of confusion here. The pay-per-click-out advertising model is based on pay-per-click, but goes one step further. Here, the user must first perform further actions before being billed.

Such activities can be, for example, the click on the subpage or the purchase of a product. Only this is called a "click out," for which the company then also pays. The original click on the advertising medium, the so-called "click in", is therefore not yet recorded as a success.
Cost per click
The words pay per click (PPC) and cost per click (CPC) are often used synonymously. However, CPC is not an advertising model, but refers to the average value of how much clicking on an ad costs the company. It is calculated from the budget spent divided by the number of clicks.

At best, the CPC should be evaluated over several months. It can then act as a measure of the success of a campaign. If it rises steadily, it means that less money should be spent. Higher CPC values, on the other hand, stand for highly competitive search terms.
Conclusion: What does pay-per-click mean?
Tying advertising costs to success, immediate generation of traffic and flexible scalability represent the advantages of the pay-per-click advertising method. Therefore, online marketing with Pay-Per-Click via Google Ads, Facebook Ads and Co. offers great advantages.