The future of commerce and marketing techniques that encourage purchase is personal and direct. This is the goal of the direct-to-consumer (D2C for short) approach, in which the customer journey runs close to the interests and opportunities of the end customer. Instead of relying on a fixed sales and advertising channel, D2C picks up customers where they are on the web. In this way, you leverage direct customer contact and expand your sales options.
This is what direct-to-consumer stands for
When consumers interact with a brand today, they expect personal consultation and products that tailored to their needs are. Retailers who offer personalized goods benefit most from this. This can be a personally compiled muesli or even a printable T-shirt or combinable bookshelf. But even classic products can be offered in such a way that the personal sales level is mirrored online.
To achieve this effect, the Customer Journey precisely to an automatically Identified target group be tailored, a personal address allow and tangible benefits offer. Faster shipping, exclusive discounts and easy-to-use customer accounts are part of this preferential treatment.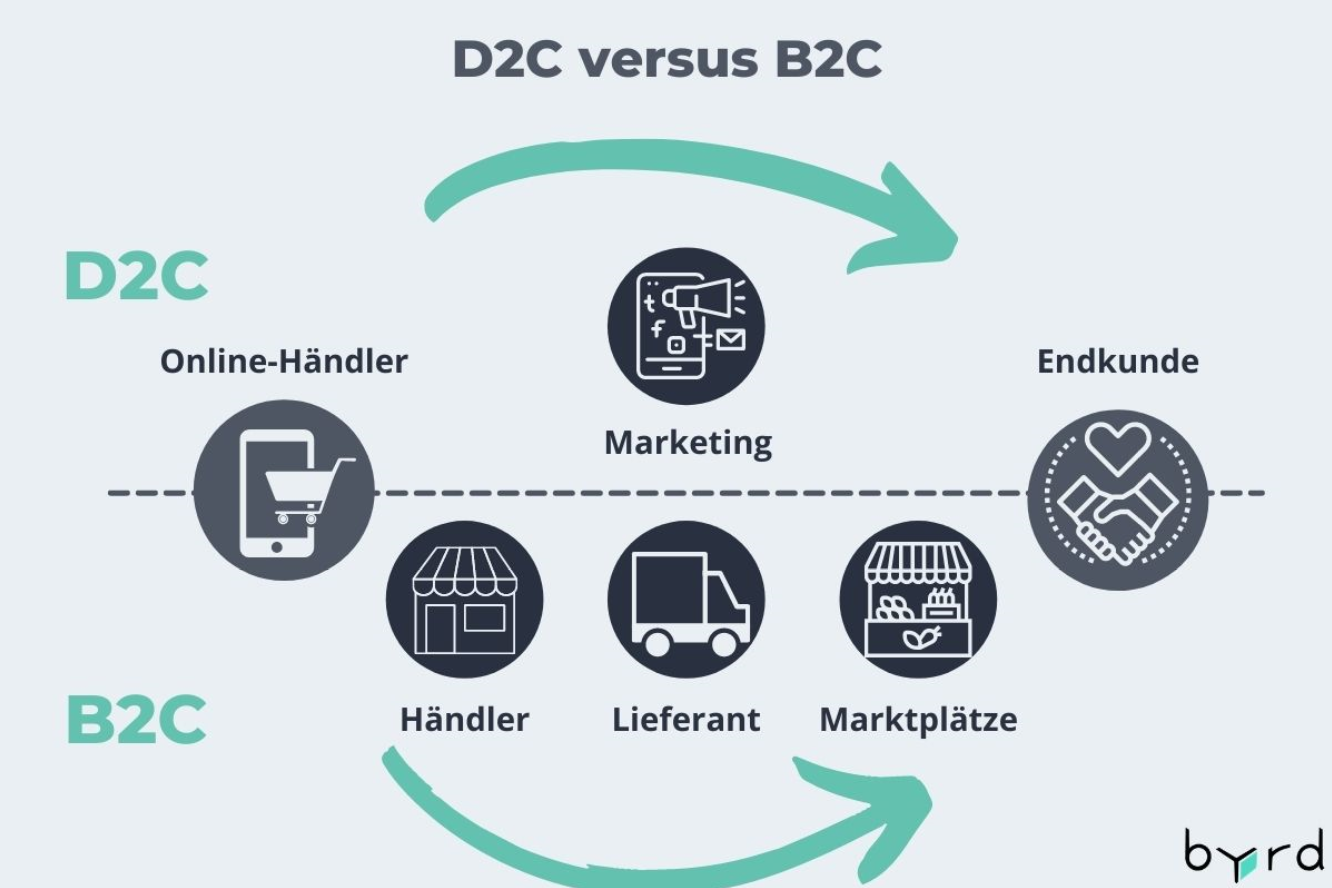 First of all, D2C means that customers buy directly from the company that produces or distributes the desired item at the first sales level. This can be done via subscriptions, online stores or ads with a direct purchase option. On the one hand, this type of distribution increases the profit margin for manufacturers, and on the other hand it creates a Personal level. In return, customers expect personalized offers and direct customer service, which they do not receive via platforms and resellers.
Essential to building direct sales channels is primarily the use of affiliate programs, social media and cookie trackers.
How to learn more about your customers
The most important lesson for companies looking to build on D2C sales is that customers don't come to you. Marketing and product must become the Target group come and that in real time. Therefore, the first step you need to know, who interested in your products and where where this target group is located. Where classic market research was necessary in the past to limit wastage, today Ad campaigns, for example, via the market leader Google, precise results.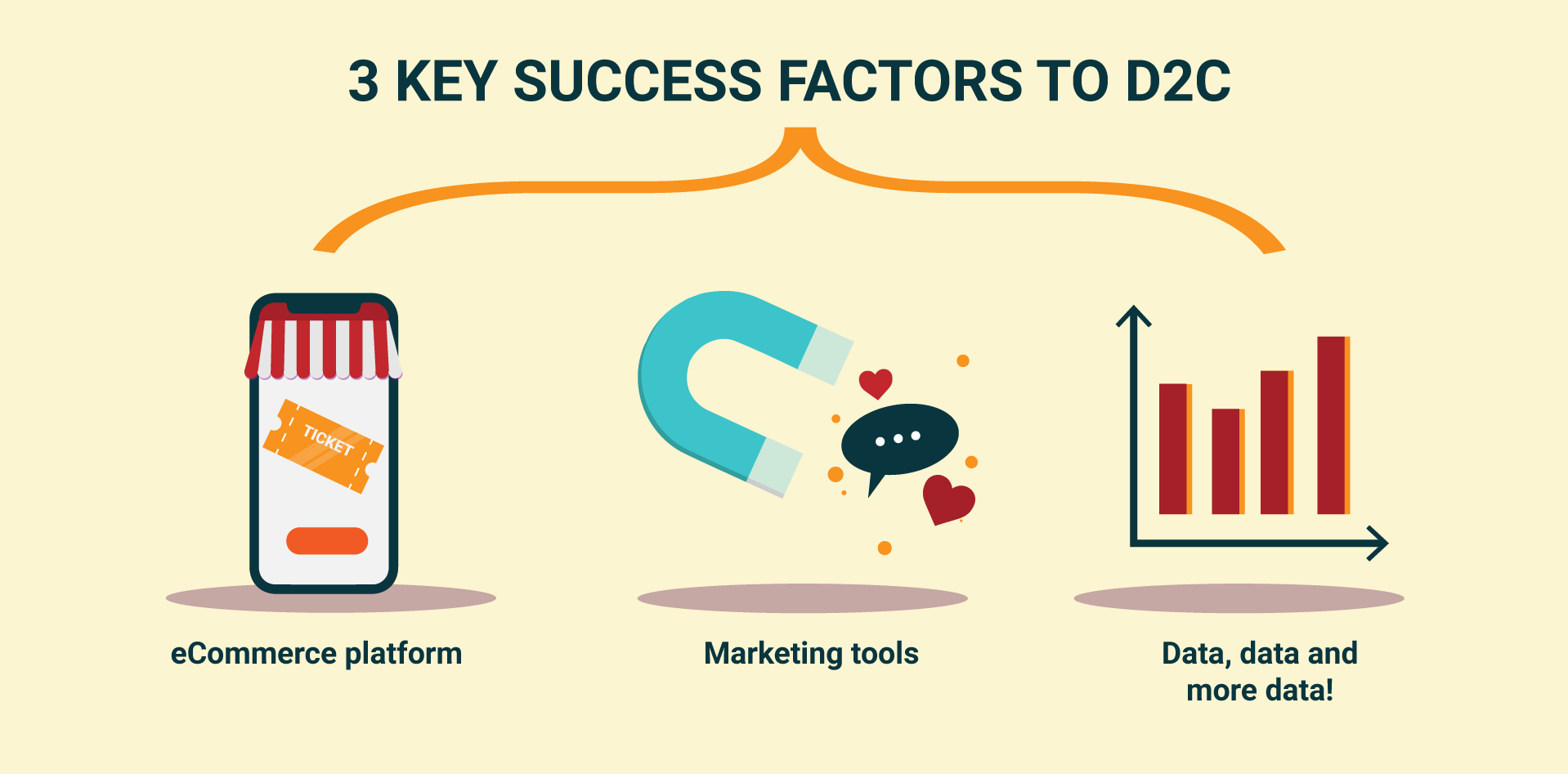 In order to address the appropriate target group with your campaigns, you can contextualized displays switch or your Strengthen SEA profile. Both methods, whether via Facebook, Google or other advertising networks, generate statistics. From the results, you can see, for example, which interests your customers associate with your product. For example, someone interested in gardening may also be interested in building supplies, green energy technology, pets, books, and travel.
Contextualized D2C marketing via social media
In order to carry out personalized marketing and Customer Journey to individual customers in real time, it is not you as the decision-maker, but rather the respective algorithm of the advertising platform, the customers know. However, for the selection of advertising platforms, it is useful from the statistics collected Customer Personas that outline a profile of the typical customer. For example, does he respond more to young, direct campaigns or does he want to be addressed as well-informed and serious? Should the product be presented as new and innovative or more sustainable and environmentally friendly?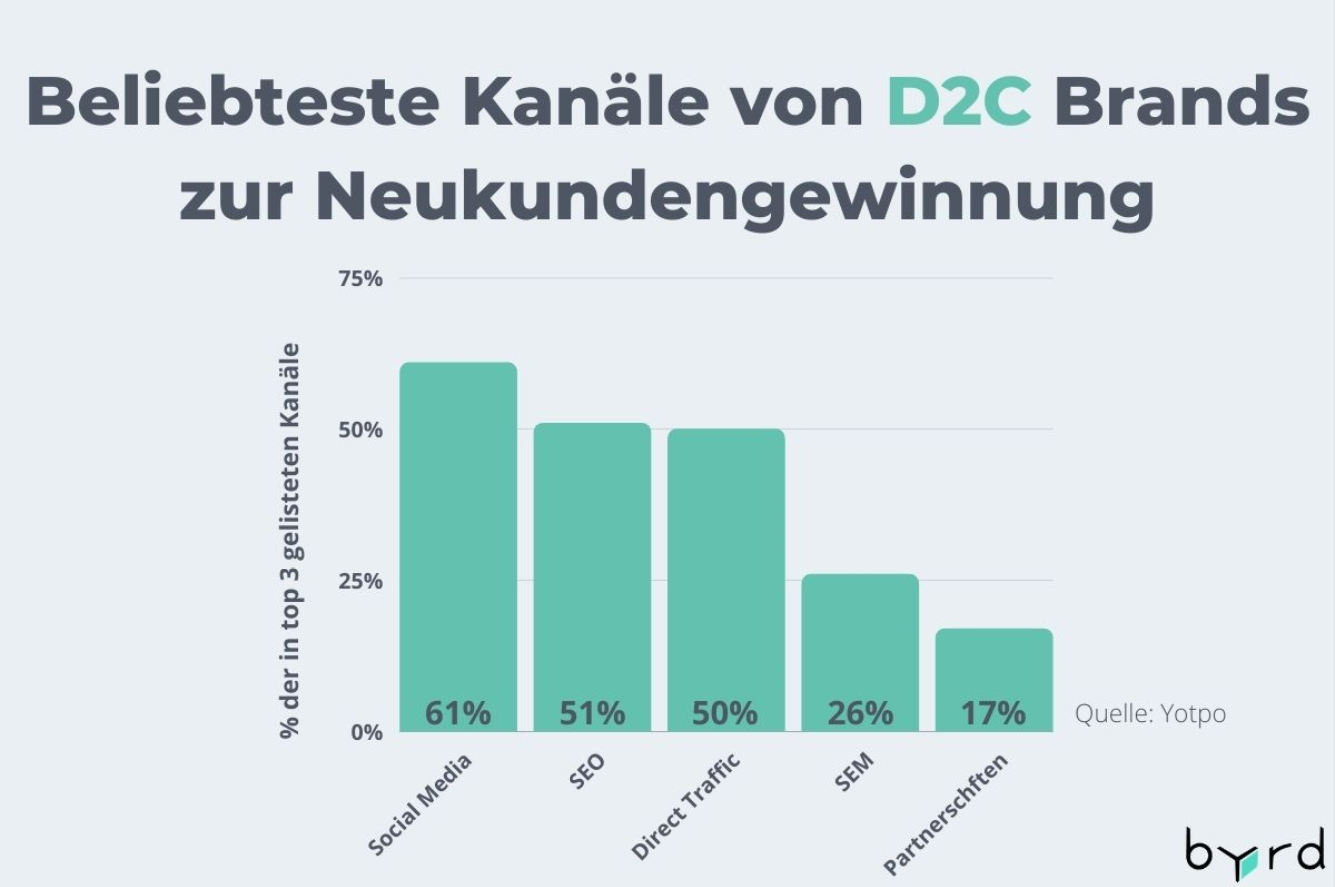 After deciding on a platform and a basic direction of marketing, you can trust the algorithms. On Instagram, for example, they recognize what kind of photos and videos users like to look at and which ads they scroll through more quickly. Your commercial on YouTube will only be played to customers who have already shown interest in similar topics to the ones you have specified.
On Google, you can define and exclude search terms, based on which the ads are then positioned.
Designing the customer journey after the first click
The D2C method requires a more comprehensive concept for the actual digital buying advice than traditional sales via various channels. Once customers have found out about your offers, they want to buy via informative content, podcasts, active social media profiles and be addressed via mailings. The goal is a close customer relationship the Trust in your brand creates and binds customers permanently to a product. This also generates personal Recommendations and range.
The customer journey therefore begins with the precise targeting about target group, interests and similar content and leads via an initial sale to lasting customer loyalty. To achieve this, the approach, interactions, product selection, quality, and price must be right. In the case of subscription offers, such as those for razor blades, coffee, tea, confectionery, underwear or food, the management of deliveries is also crucial. Your customers must enjoy the good feeling of being able to decide for themselves at any time whether they want to continue receiving the product.
Binding to your product can also happen via an advertising partner. For example, many manufacturers have been working with influencers for years, who generate the majority of sales as affiliate partners or via direct ads. Since there is no need for additional sales, the influencer becomes a kind of face of the brand, a position that used to be filled expensively for individual campaigns. Customers trust the influencer and thus also the company.
Design D2C marketing to the point
At Thorit we have focused on target group oriented Specialized marketing that reaches your customers where they really are. Rely on dynamic marketing channels and content that really convinces.
We'll be happy to advise you on your options and work with your team to build a marketing strategy for personalized D2C marketing.